As inscrições sobre o Colonato nas Propriedades Fundiárias Imperiais da África Romana (1): A inscrição de Henchir Mettich (CIL VIII, 25902). Apresentação, texto e tradução
Palavras-chave:
Colonat. Afrique romaine. Domaines impériaux. Agriculture. Inscription d'Henchir Mettich.
Resumo
L'Afrique du Nord sous l'Empire romain a connu une extraordinaire mise en valeur agricole, qui fut, en grande mesure, fondée sur un système particulier d'exploitation de la terre, le « colonat ». Ce système nous est éclairé par une série de six grandes inscriptions relatives aux domaines impériaux de la vallée du Mejerda, dans la région du Tell tunisien, découvertes au tournant des XIXe et XXe siècles. Premier d'une série de trois articles sur ces inscriptions, ce texte présente une traduction commentée du plus ancien de ces documents épigraphiques, l'inscription d'Henchir Mettich. 
Referências
BAKER, G. W. W.; GILBERTSON, D. D.; JONES, G. D. B.; MATTINGLY, D. J. (eds.). Farming the Desert: The UNESCO Libyan Valleys Archaeological Survey. 2 vols. Paris-Londres: UNESCO, 1996.
CAGNAT, R.; TOUTAIN, J.; GAUCKLER, P. Inscription d'Henchir Mettich. Comptes rendus de l'Académie des Inscriptions et Belles-lettres, Paris, 4e série, t. 25, p. 146-153, 1897.
CHARLES-PICARD, G.; ROUGÉ, J. (eds.). Textes et documents relatifs à la vie économique et sociale dans l'Empire romain. Paris: Société d'édition d'enseignement supérieur, 1969.
DE VOS, M. (ed.). Rus Africum. Terra acqua olio nell'Africa Settentrionale. Scavo e ricognizione nei dintorni di Dougga (alto Tell tunisino). Trento: Università degli Studi di Trento, 2000.
FENTRESS, E.; FONTANA, S.; HITCHNER, R. B.; PERKINS, P. Accounting for ARS: Fineware and Sites in Sicily and Africa. In: S. E. ALCOCK; J. F. CHERRY (eds.). Side-by-side Survey: Comparative Regional Studies in the Mediterranean World. Oxford: Oxbow, 2004, p. 147-162.
FLACH, D. Inschriftenuntersuchungen zum römischen Kolonat in Nordafrika. Chiron, Munique, v. 8, p. 441-491, 1978.
FLACH, D. Die Pachtbedingungen der Kolonen und die Verwaltung der kaiserlichen Güter in Nord-Afrika. In: Aufstieg und Niedergang der Römischen Welt (ANRW), II, 10, 2. Berlim-Nova Iorque: W. de Gruyter, 1982, p. 428-473.
FRANK, T. A commentary on the inscription from Henchir Mettich in Africa. The American Journal of Philology, Baltimore, v. 47, n. 2, p. 153-170, 1926.
HITCHNER, R. B. The Kasserine Archaeological Survey, 1982-86. Antiquités Africaines, Paris, v. 24, p. 7-41, 1988.
HITCHNER, R. B. The Kasserine Archaeological Survey, 1987. Antiquités Africaines, Paris, v. 26, p. 231-260, 1990.
HITCHNER, R. B. Olive oil production and the Roman economy: the case for intensive growth. In: M. C. AMOURETTI; J. P. BRUN (eds.). La Production du vin et de l'huile en Méditerranée. Atenas: École Française d'Athènes, 1993, p. 499-508.
JACQUES, F. L'origine du domaine de la Villa Magna Variana id est Mappalia Siga (Henchir Mettich): une hypothèse. Antiquités Africaines, Paris, v. 29, p. 63-69, 1993.
JOHNE, K. P.; KÖHN, J.; WEBER, V. Die Kolonen in Italien und den westlichen Provinzen des römischen Reiches. Eine Untersuchung der literarischen, juristischen und epigraphischen Quellen vom 2. Jahrhundert v.u.Z. bis zu den Severen. Berlim: Wiley VCH, 1983.
KEHOE, D. P. The Economics of Agriculture on Roman Imperial Estates in North Africa. Göttingen: Vandenhoeck & Ruprecht, 1988 (Hypomnemata, 89).
KOLENDO, J. Le colonat en Afrique sous le haut empire. 2ª ed. Paris: Les Belles Lettres, 1991.
LO CASCIO, E. (ed.). Terre, proprietari e contadini dell'impero romano. Dall'affitto agrario al colonato tardoantico. Roma: La Nuova Italia Scientifica, 1997, p. 151-161.
MATTINGLY, D. Oil for export? A comparison of Libyan, Spanish and Tunisian olive oil production in the Roman Empire. Journal of Roman Archaeology, Portsmouth, v. 1, p. 33-56, 1988.
ØRSTED, P.; CARLSEN, J.; SEBAÏ, L. L.; BEN HASSEN, H. (eds.). Africa Proconsularis. Regional Studies in the Segermes Valley of Northern Tunisia. Vol. 3: Historical Conclusions. Aarhus: Aarhus University Press, 2000.
ØRSTED, P. From Henchir Mettich to the Albertini Tablets: a study in the economic and social significance of the Roman lease system (locatio-conductio). In: J. CARLSEN et al. (eds.). Landuse in the Roman Empire. Roma: L'Erma di Bretschneider, 1994, p. 115-125.
PERNOT, M. M. L'inscription d'Henchir Mettich. Mélanges d'archéologie et d'histoire de l'École française de Rome, Roma, v. 21, n. 21, p. 67-95, 1901.
ROSTOVTZEFF, M. Studien zur Geschichte des römischen Kolonates. Leipzig-Berlim: B. G. Teubner, 1910.
TOUTAIN, J. L'inscription d'Henchir Mettich: un nouveau document sur la propriété agricole dans l'Afrique romaine. Mémoires de l'Académie des Inscriptions et Belles-lettres, Paris, 1ère série, t. IX, p. 31-146, 1902.
VERA, D. Terra e lavoro nell'Africa romana. Studi Storici, Roma, v. 29, n. 4, p. 967-992, 1988.
WITTAKER, C. R. Land and labour in North Africa. Klio, Leipzig, v. 60, p. 331-362, 1978.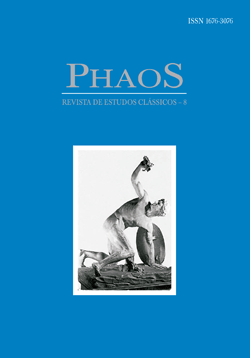 Downloads
Licença
Ao se submeterem textos para a PhaoS, seus autores devem estar cientes de que, se aprovados para publicação, a revista terá sobre eles todos os direitos autorais pertinentes. Originais não serão devolvidos.